Considering what's best for you, Ride and Smile has listed the Best Restaurants in Klosters and explains why you got to visit all of them!
Besides being able to enjoy your summer or winter vacation, Klosters is a paradise where you can find incredible options for restaurants that can make your moments even more enjoyable.
Note: We would like to remind you that during the high season it's necessary to plan and book in advance the chosen restaurant, ok?
Note 2: For those looking for vegetarian options, almost all restaurants have a fixed option on the menu. But it's worth checking the website for it or even contact for a specific option.
List of the Best Restaurants in Klosters
Höhwald
Since the 1980s in Monbiel (a village in Klosters at 1,300 m altitude), Höhwald was a place where the hunters met to celebrate their "trophies". The whole wood restaurant is one of our favourites, and it is owned by the Dietrich family.By the way, the restaurant is in the Guide Michelin list, and you can go there in winter or summer. Most of the products are made within the restaurant since the use of regional products is a priority to keep the old traditional concept. They are always thinking about the customer and sustainability issues. You will feel the atmosphere as soon as you step on the spot for the first time.
• Phone : +41 81 422 30 45
• Website: http://www.hoehwald-klosters.ch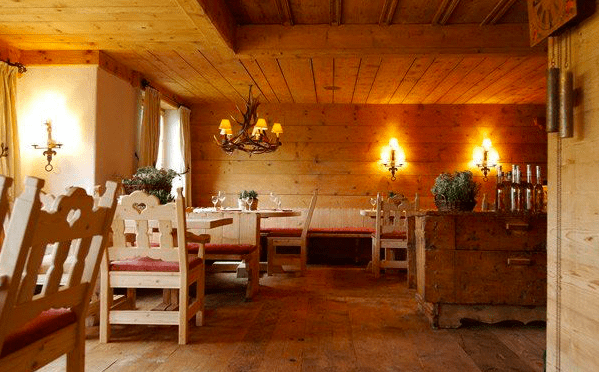 Hotel Wynegg
It's an old fashion location over 100 years old with a lot of history and a familiar atmosphere. Chef Andri Fasser, an innovative professional, signs the dishes always concerned with the freshness of the ingredients. If you're visiting Klosters in the summertime, you have to relax in their garden terrace with a drink while kids play outdoors.
• Phone: +41 81 422 13 40
• Website: https://wynegg.ch

Alpenrösli
Alpenrösli is not only a restaurant: It is a great experience we highly recommend. It is 1,450 m above the sea level and away from the noise and agitation of everyday life, it offers a unique environment; be sure that nature will surround you.
You can enjoy a lunch with one of the most beautiful sunny views from the terrace or a dinner with the possibility of sleeping on the mountain. In the winter, by day or night, it's possible to return to Klosters by sledge.They offer a vast and meticulous selection of wines from countries all over the world. Not sure which wine you should choose? Count on their staff, who is prepared to indicate the best option for your time.
Note: Our essential tip – in winter, if you go by car, after parking, you need a 20-minute walk. Only taxis can get to the restaurant.
• Phone: +41 81 422 13 57
• Website: http://www.alpenroesli-klosters.ch
Teehütte – Selfranga
Small and cosy, this restaurant has the ski cabins charm, and it's perfect for big groups who seeks privacy. Its facilities change according to the seasons – in the summer, it is next to the golf course and, in the winter, to the ski lift from Selfranga.
Every Wednesday, during the winter season, you can go there after a night skiing as the slopes are open!
• Phone: + 41 81 422 51 53
• Website: http://www.teehütte-klosters.ch

Bär's
If you want to go out and meet some friends, have a drink and chat, we recommend Bärs at the Hotel Piz Buin. The atmosphere is pleasant and comfortable. If children accompany you, they have toys at the bar, and it's possible to use the hotel's playground.
In summer, the terrace on the edge of the river Lanquart is spacious and suitable for children, too.
Here is the best tip: To keep up with the drinks, we recommend the flammkuchen or the hamburgers. Don't you know the flammkuchen? It's a typical German food (it comes from the Alsace region) that remembers a pizza, but it has a very thin and crunchy dough. Well, the traditional cover is also different. It does not take cheese nor tomato sauce, and onion is a classic ingredient.
• Phone: +41 81 423 33 33
• Website: https://www.pizbuin-klosters.ch/en/restaurantbar/
Chesa Grischuna
Inside the Hotel Chesa Grischuna, it is a very traditional place. Since 1938, it has been serving excellent traditional Swiss food. If you're looking for bright and happy nights with a piano gig, you have to go down and visit the hotel bar. The hotel is called Hollywood on the Rocks because writers and personalities from the film industry have travelled to Klosters and stayed at the hotel at that time.
During the summer, enjoy the menu with seasonal specialties on the restaurant's terrace.
Phone: +41 81 422 22 22
• Website: https://chesagrischuna.ch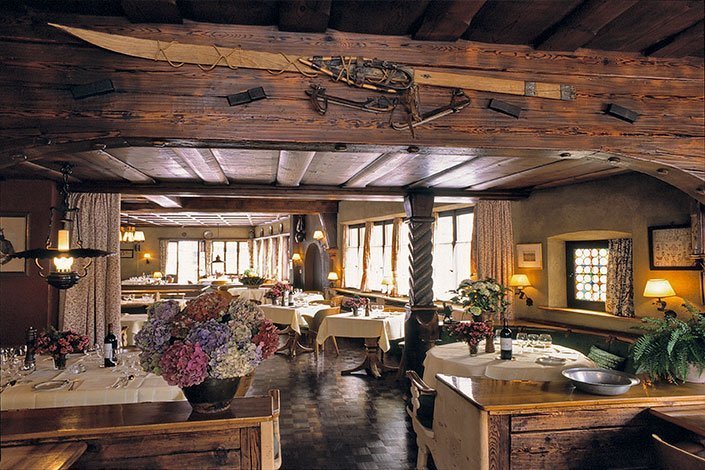 Alp Garfiun
After a nice walk, if you want to top off with a lunch or dinner, Alp Garfiun is undoubtedly a good choice. Their specialty is the Swiss cuisine.
You can get there walking, riding a bike or a carriage – it's your choice!
In the summertime, you can enjoy the good weather with a view of the beautiful landscapes on the comfortable terrace. If you go there in the winter, every Thursday they offer a cheese fondue that chats with a romantic carriage ride – by appointment, so don't forget to schedule. On Saturdays, you can have a fondue evening (chinoise or cheese). Try a beautiful barley soup or the "Bündner Plättli".
• Phone: +41 81 422 13 69
• Website: http://www.alpgarfiun.ch/

Kaffee Klatsch
Their two units are an excellent option, no matter what time it is – for a coffee, brunch and lunch in winter or summer.
The unit next to the Gotschna Station is an excellent choice in winter for an apré ski. The atmosphere is charming, extremely comfortable, and on specific days, there is live music.
Summertime is suitable for their summer dishes (a salad, for example), a variety of drinks and delicacies they daily offer while enjoying the mountain air. Our best tip: You got to try a pie. It's amazing!
• Phone: +41 81 417 68 40
• Website: http://www.kaffeeklatsch-klosters.ch/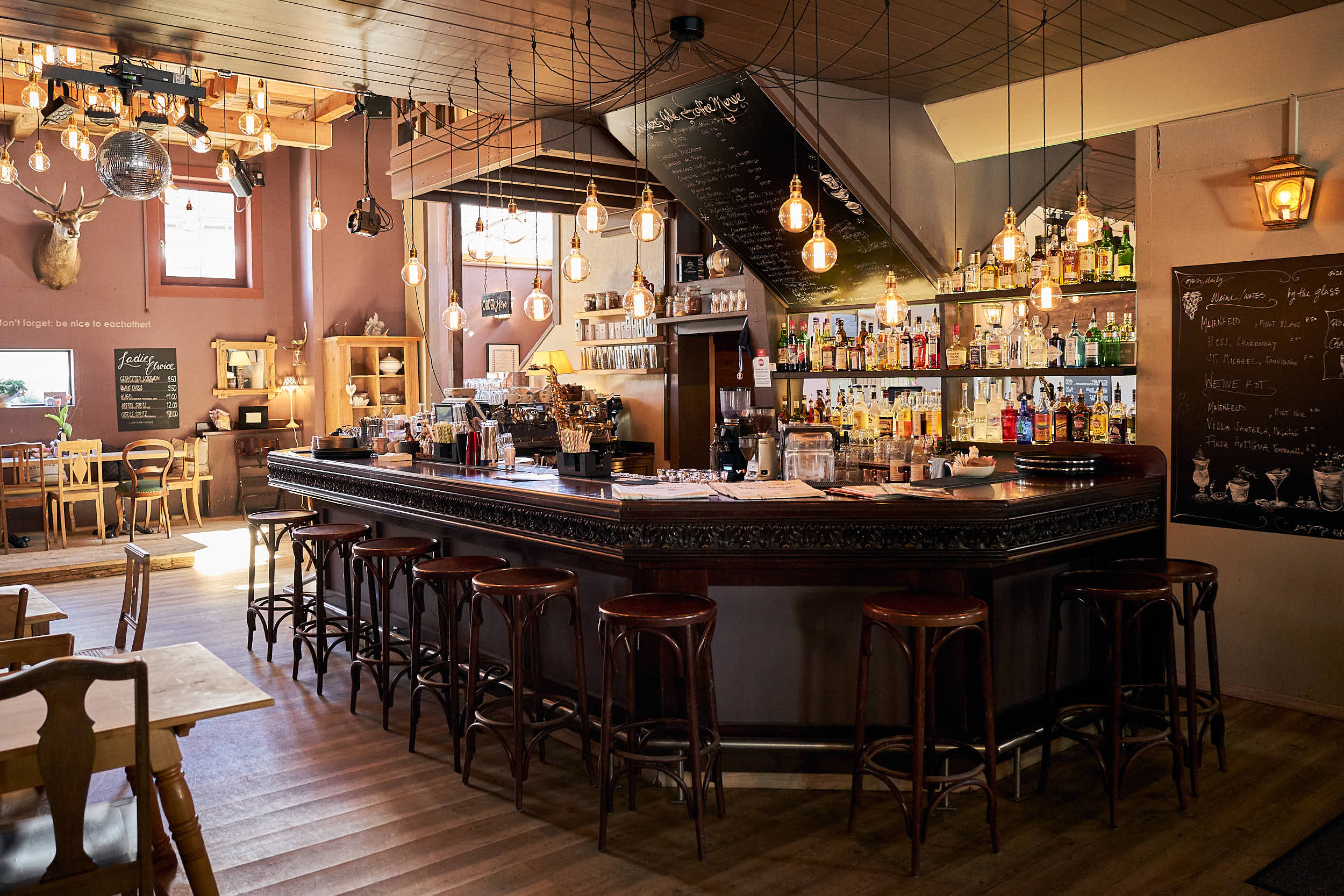 Gotschna Restaurant – Serneus
Since June 2013, Renee and Al Thöny are the hosts in the historical Gotschna Restaurant in Serneus built in 1841 and located in the beautiful Prättigau valley.
You can try some local or international dishes because they also have Asian specialties like sushi, sashimi, curries, Asian snacks, and more – all very fresh and tasty. In summer, it is possible to enjoy an outdoor meal in their garden area. Have a nice lunch, dinner, coffee with cake, or apero.
• Phone: + 41 81 422 14 28
• Website: https://www.restaurant-gotschna.ch

Kanonenbar 
The Kanonenbar is a small wooden hut above the Madrisabahn car park. Whether summer or winter – the terrace with a breathtaking view over the village invites you to coffee, beer and some Swiss specialties. The team is very hospitable and always happy to have a visit.
• Phone: +41 79 482 05 78
Berghaus Erika
Are you looking for a rustic and cosy place? Erika is the answer. Their restaurant is quaint and folksy, perfect for enjoying in summer or winter. You can reach the place by walking during the summer – it's an almost one-hour-and-a-half walk. Moreover, if you get tired, you can sleep in the mountains; their accommodations are just fabulous!
Going by car is very fast: 10 minutes and you are there! Our tip: They can issue the required street permit for CHF 10, valid for 24 hours, meaning you can drive up to Schlappin without the license and purchase it when you get there.
In the winter: It's only reached by the Madrisa cable car and with skis. If you're going to stay a minimum of three nights, the luggage transport is free!
• Phone: +41 81 422 11 17
• Website: http://www.schlappin.ch
Have I heard 'pizza'?
Madrisa Mia
Super recommended for lovers of Italian food. In addition to pizza, you will find several specialties from the country. The pizzaiolo from Italy guarantees the originality and flavor of the dishes.
• Phone: +41 81 410 21 70
• Website: http://www.madrisa.ch/madrisa-mia
Al Capone
Well located, since it's on the main street. Great value for money and, despite its name, offers a varied menu.
• Phone: +41 81 416 82 82
• Website: http://www.alcapone-klosters.ch/
Note: Both Al Capone and Madrisa are open in the winter and summer and have a takeaway service if it suits you better.

Hotel Alpina Restaurant
Commanded by chef Florian Friedl since July 2017, the 4-star Hotel Alpine Restaurant offers a menu with regional specialties and international cuisine. The hotel's terrace is always inviting whether in summer or winter.
• Phone: + 41 81 422 15 67
• Website: https://www.alpina-klosters.ch/en/kitchen/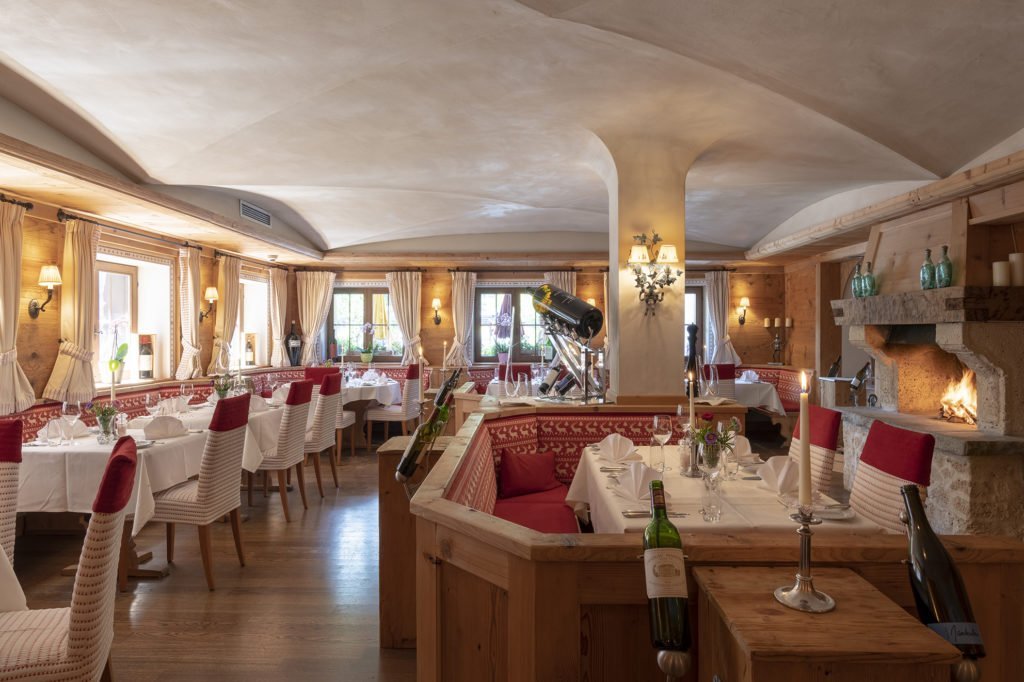 Murabeizli 
Murabeizili is a typical cozy Swiss hut, which is located inside the old Mura Alpenrösli ski lift that was already built in 1952. It was restored by the Bartli Gruober family and his partner Conny Zanetti to preserve this historical lift as an important part of the history of snow sports in Klosters. The menu offers a small selection of typical Swiss dishes.
During the winter, how about allying a snowshoe walking day or summertime riding a bike and having dinner or lunch in one of these restaurants we recommend?  You can be in a group, a couple, or whole family – allow Ride and Smile to organise a complete tour and take you to an excellent place to have a meal in Klosters.
Schedule your holidays and prepare to have a good time!