For sure, the main attraction in Davos Klosters is and remains the fun on the slopes – whether on skis, snowboards or on a leisurely winter hike through the beautiful winter landscape of Davos Klosters. Nevertheless, the region has many other opportunities on rest days or after a tour on the slopes.Following we have compiled some of the top winter activities in Davos for you:
Winter Bucket List Activities in Davos
1. Snowshoeing in Sertig or Wolfgang
Snowshoe walking is a great day and night activity for anyone who enjoys being in nature. Davos offers a variety of opportunities for snowshoeing, whether in the spectacular Sertig Valley or in the middle of the forest in Wolfgang. Walking on soft snow is a unique feeling and highly recommended. The route is always chosen according to the individual needs and preferences of the participants.
Children learn differently than adults. With us from Ride and Smile they have so much fun learning to ski that they don't even notice that they are attending a course! In order to promote a positive and stress-free learning atmosphere, we do not take any exams and do not organize ski races between the participants!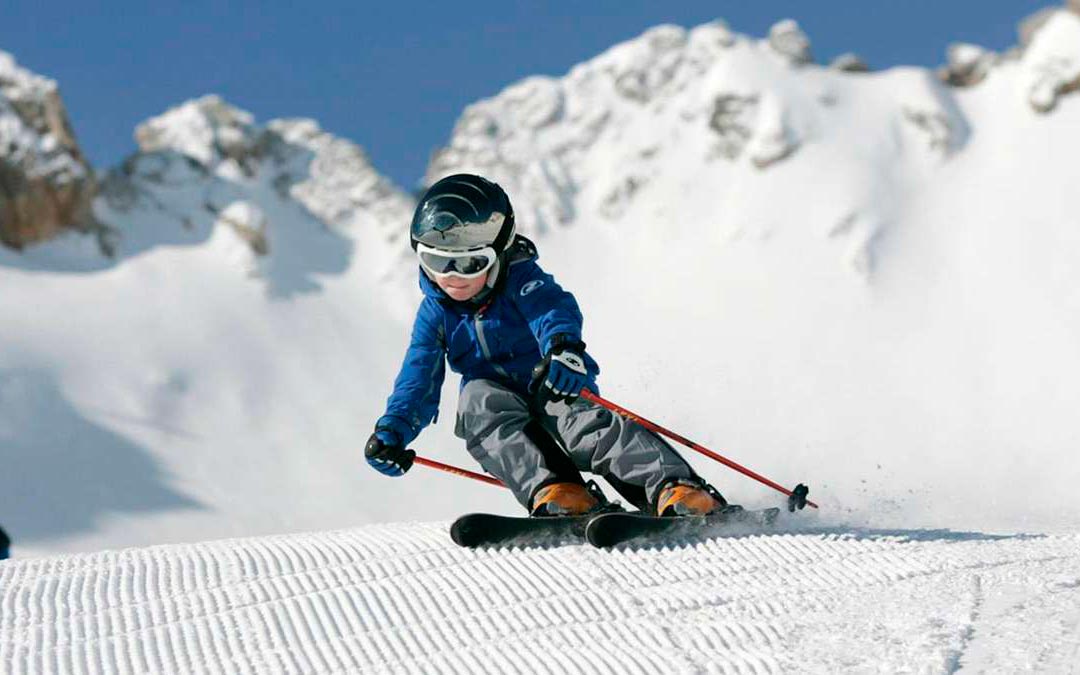 3. Skiing lessons by night
Skiing and sledding by night? No problem! The slope on the Rinerhorn is open twice a week for night skiing and night sledging. It starts at 7 p.m. until 10:30 p.m. There is also a "Bündner" evening on Wednesdays and a "Swiss" evening on Fridays.
4. Aquatic centre eau-là-là
The aquatic centre in Davos is known as a real oasis for young and old swimmers and wellness enthusiasts. In addition to indoor and outdoor pools, a diving area, a paddling area and a fun park for children, there is also a solarium, a steam bath, foot baths and an open-air whirlpool bath.Opening hours vary depending on the day of the week.
5. Färbi Sports Hall Davos
The Färbi sports hall in Davos is the perfect place to do activities away from the slopes. There is a wide range of sports on offer such as tennis, badminton, squash, archery, indoor golf, table tennis and climbing. The facility is recommended for adults and children over 10 years of age.Opening times are Monday to Friday from 12pm to 9pm and Saturday and Sunday from 10am to 6pm.
6. Winter sledging run – Davos Schatzalp
The winter sledging run to Davos Platz starts at the Schatzalp starting point and is suitable for adults, children and beginners. The run is 2.8 kilometers long and has 18 curves through the magical woods of the Schatzalp. Guaranteed fun for the whole family!
The sledge run is open from 10 a.m. to 11 p.m. When it gets dark, the curves are well lit. Sledges can be rented for CHF 10 at the valley station of the Schatzalp cable car and returned there.
7. Horse-drawn carriage ride through the Sertig valley
What could be nicer than a comfortable carriage ride with a view of the breathtaking Sertig Valley? This is one of the must-see places for its beauty, whether it's winter or summer.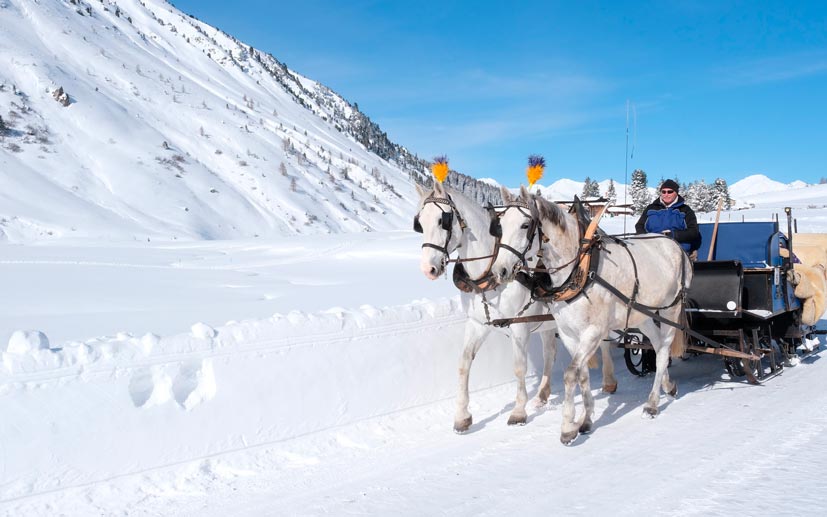 8. Airborden auf Pischa
If you are looking for adventure and adrenaline, we recommend a trip to Pischa for airboarding. It involves lying on a board filled with air while going down the mountain. The board is controlled by shifting the equilibrium. The great thing about this sport: The technique can be learned quickly and no previous experience on the slopes is required.
9. Ice skating in Davos
The Davos World of Ice invites young and old to ice skate on an area of 4500 square meters. But other sports are also possible here, such as curling or hockey games. The time two hours before the normal opening times is reserved especially for speed skaters.
For all chocolate lovers, Confiserie Schneider offers the "Chocolate Crash Course", a guided tour through the world of chocolate production. There are two courses on offer, lasting two and three hours. The price is CHF 48.00 or CHF 78.00 per person.
Another option is the 1.5 hours Chocolate Show course, where participants make their own chocolate. However, it needs a minimum of 5 people (maximum 15 participants) and a reservation is necessary at least 3 days in advance. The price is CHF 38.00 per person.
11. Winter sports museum Davos

In the Davos winter sports museum, visitors can learn everything about the history of winter sports in this traditional town. For example, have you ever wondered why ice hockey is the ultimate passion in Davos? The museum shows various exhibits, reports and stories from locals and contemporary witnesses.

12. Visiting an ice hockey game
Davos has its own ice hockey club, HC Davos, which even plays in the National League. The home games will be played in the Davos ice stadium – a great opportunity to be there live at one of the games and cheer for the record champions.
13. Build an igloo
As part of the winter guest program for families, a great attraction takes place on several Tuesdays in February and March. Building an igloo together is without a doubt the highlight. The meeting point is always in front of the guest advice center in Davos Platz. The activity starts at 5 p.m. to 7 p.m. If there is not enough snow to build an igloo, an alternative program is offered. Children up to the age of 12 may only participate if accompanied by an adult.
14. Visiting Monstein Village
This typical Swiss village with only 200 inhabitants is located at 1620 meters above sea level and is surrounded by the most beautiful landscapes in the region. How about a snowshoe tour with Ride and Smile and a visit to the highest brewery in Europe, which is located in the village?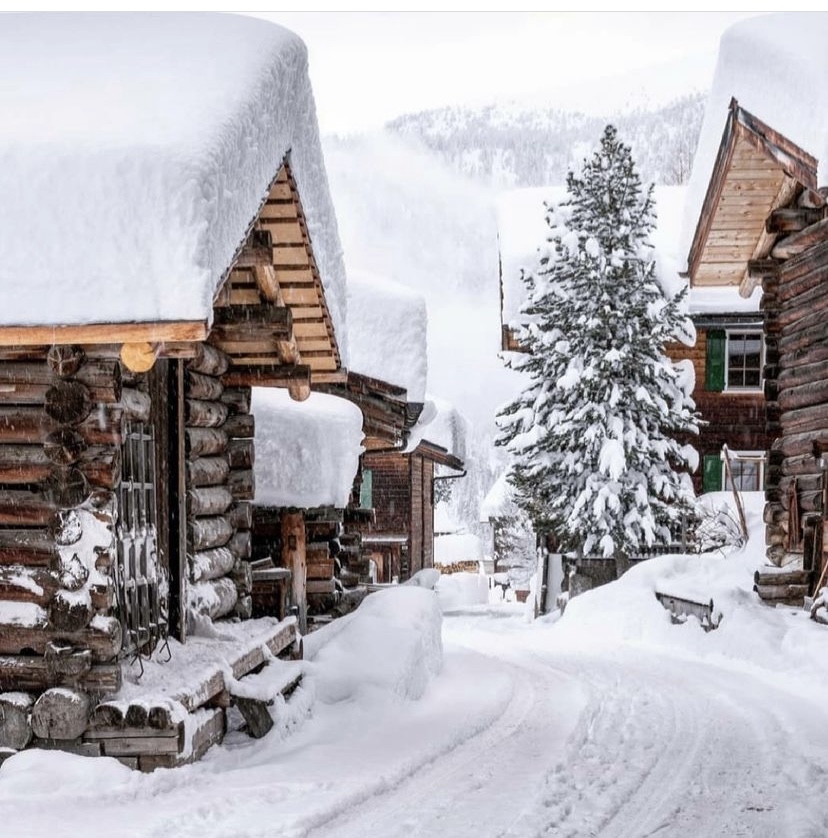 15.  Paragliding and Snowshoeing
Enjoy a view of the untouched winter landscape of Davos from above! Did you know that Davos is one of the top winter flying areas in Switzerland? You can experience the combination of flying and snowshoe walking. In addition, flight photos and a video are included in the price for all flights.
16. Igloo Hotel in Parsenn
Spend the night in a very special hotel in the middle of the ski area! The igloo hotel in Parsenn is 2,620 meters above sea level and delights children and adults alike with its snow and ice art.On offer are shared rooms for families and groups, an option for couples with a private toilet and even an exclusive suite with a private jacuzzi. There are thermal mats and special expedition sleeping bags in every room.