Are you planning a stay in Davos during summer or winter and looking for a hotel? Below we have compiled a list of our recommendations for hotels that stand out either for their location or for their comfort, so that you can enjoy enjoy Davos fullest. Our recommendations vary from 5 to 3 star hotels. Look forward to a relaxing and comfortable stay in one of the most beautiful regions of Switzerland.
5-Star Hotels *****
AlpenGold Hotel 
AlpenGold Hotel is a luxurious five-star hotel with modern architecture and high standards. The rooms offer breathtaking views of the mountains and are equipped with everything needed for a pleasant stay. The hotel's spa and four restaurants and two bars offer guests a variety of ways to relax and enjoy their holidays.
The hotel is located on the edge of the forest near the lido and Lake Davos and is just a few minutes by bus or shuttle from the center of Davos. Although the hotel is not ideally located directly at the ski area, the shuttle service offered provides convenient transportation to the valley station,this ensures quick access to the slopes, and nothing stands in the way of an exciting day.
During the summer, the hotel is an ideal starting point for hiking and biking tours in the beautiful mountain landscape of Davos. All in all, Alpen Gold Hotel is a perfect place for guests who are looking for luxury and modern architecture and want to experience an unforgettable stay.
Precise Tale Seehof Davos
Precise Tale Seehof Davos is a luxurious five-star hotel located right next to the Parsenn valley station, making it perfect for experienced skiers looking for challenging slopes or experienced mountain-bikers looking for enduro trails. The "Prättigauer Höhenweg" is considered one of the best single trails in Mittelbünden, but is only recommended for experienced mountain bikers.
The hotel offers first-class cuisine where you can indulge in culinary delights after a long day on the slopes. The rooms are of high quality and offer everything you need for a pleasant stay. You will be delighted by the cozy atmosphere and comfortable ambience.
However, beginner skiers should note that they will need a bus to get to the beginner slopes at Jakobshorn. It is advisable to find out about public transportation in advance to ensure a smooth start to your ski vacation.
Steigenberger Icon Grand Hotel Belvédère
The Steigenberger Grand Hotel in Davos is a traditional hotel with a long history and historical flair. It is located on the promenade with inviting stores, restaurants and museums. You can reach the spa park or the Vaillant Arena in about 5 minutes on foot.
The hotel offers a spacious spa area for relaxation and regeneration, as well as a swimming pool, two restaurants, a piano bar and a Belvédère wine cellar.The comfortably furnished rooms offer everything for a pleasant stay. The Steigenberger Grand Hotel offers traditional and classic accommodations.
The hotel's central location makes it an ideal base for exploring the region. Take advantage of a stay at the hotel to explore the region's winter and summer highlights.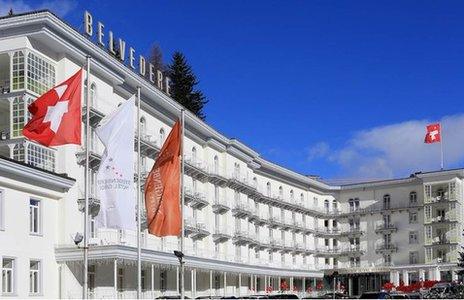 4-Star Superior Hotel ****
Hotel Grischa
Hotel Grischa is a 4-star superior hotel, which is an ideal base for a summer or winter vacation.
It is located near the train station Davos Platz and only a few minutes' walk from the valley station of the Jakobshorn ski area, so you can start directly from the accommodation on the slopes. The Bolgen ski lift at Jakobshorn is especially recommended for ski beginners, giving you the perfect introduction to the ski area.
The hotel offers seven excellent restaurants that boast a diverse selection of international cuisine. There is also a bar and a cigar lounge to end the evening in comfort.
As there is no in-house wellness area, guests can visit the nearby wellness and adventure pool "Eau-là-là" to relax. Overall, is a perfect place to stay, especially for guests who value excellent restaurants and a relaxed and modern atmosphere. Good to know: It also specializes in the needs of mountain bikers.
Ameron Davos Swiss Mountain Resort
The Ameron Davos Swiss Mountain Resort is good choice for a summer or winter vacation in the Davos region. The resort is centrally located in Davos village and is a perfect starting point, for example for summer activities. It offers a small bike workshop for mountain bikers, where you can do small repairs yourself. The resort is also ideally located for a ski vacation. Especially for guests who prefer the Parsenn ski resort, the location is very interesting, as it is particularly close to the ski area.
The rooms at the resort are high quality in modern Swiss design. An 850-square-foot spa area offers relaxation on bad-weather days, and there are two restaurants with a diverse selection.
The bus stop is just a few minutes' walk from the resort and will quickly take you to Davos Dorf or Davos Platz. In summary, the AMERON Davos Swiss Mountain Resort is an unforgettable vacation experience in Davos due to its central location, high quality rooms, spacious spa area, two restaurants and inspiring art concept.
Hard Rock Hotel
Hard Rock Hotel is an absolute must for music lovers and alpine fans. This 4-star superior hotel combines the legendary Hard Rock culture with the beauty of the Swiss Alps and offers its guests an unforgettable stay. Look forward to daily live music, a first-class spa area, and fully equipped residences that can be rented.
It should be noted, however, that some rooms may be slightly smaller than expected. Talk to the front desk when booking to make your requests. The hotel's location in the center of Davos Platz is ideal for various activities and visiting bars and restaurants.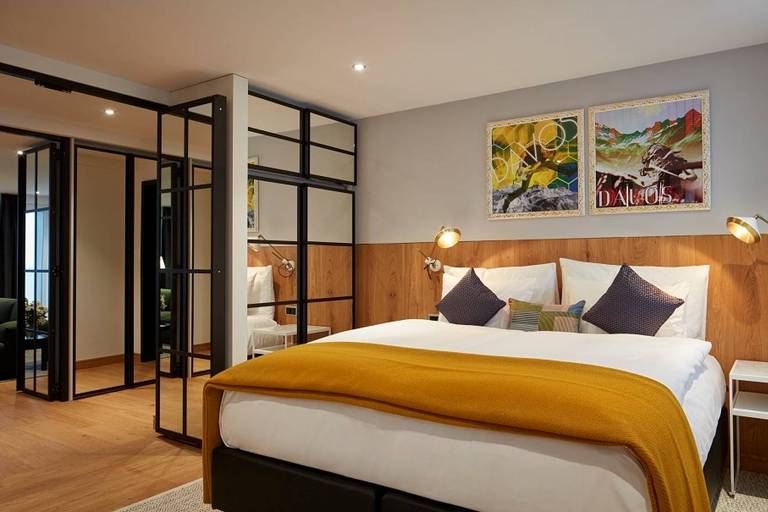 The hotel's location in the center of Davos Platz is ideal for various activities and for visiting bars and restaurants. The Hard Rock hotel is a recommendation for those passionate about outdoor activities, individuals seeking to discover the mountains on a mountain bike or motorcycle, or families in search of a delightful vacation experience.  Especially for mountain bikers the hotel is interesting as it firms as official bike hotel with lockable bike room, outside cleaning place for the bike, many insider tips.
Also, in winter the hotel invites you to a sporty leisure program. How about turning your winter mode on and going on a cross-country skiing tour to explore the vast network of slopes?
Overall, Hard Rock Hotel Davos is an excellent choice for those looking for a unique combination of music, mountain scenery and luxury.

4-Star Hotel  ****
Hilton Garden Inn
Hilton Hotel is comfortable 4-star hotel, located just 1,5km from the center of Davos. It offers contemporary furnished rooms that meet all standards and ensure a pleasant stay. In the hotel restaurant you can enjoy delicious meals in a stylish ambience, and in the hotel bar you can relax and end the day. The hotel's wellness area also offers opportunities for relaxation and recreation.
If you would like rooms with a mountain view, simply indicate this at the front desk when booking, and the hotel will try to accommodate your request. The location of the hotel is convenient, as the bus stop is right in front of the hotel. The bus goes in both directions and will quickly take you to your desired destination.
Especially in summer, the good connection makes it easy to take a walk around the city or to reach one of the attractive excursion destinations. How about a visit to the Schatzalp summer toboggan run, the botanical garden or the Rinerhorn Alpine petting zoo?
In winter, for skiers the location near the Parsenn ski area is good, the bus ride takes only a few minutes. If you prefer to walk, it will take you about 15 minutes to get to the Parsenn valley station.
3-Star Hotel  ***
Hotel Alpinne Inn
The Hotel Alpine Inn in Davos Dorf has a long history but has recently been completely renovated. Thanks to its convenient location directly at a bus stop of the Davos public transport system, you can easily reach various attractions in Davos from here.
The rooms at the Alpine Inn are modern and brightly decorated. There are different categories of rooms, starting from simple double beds to penthouse suite. Regardless of the category you choose, a pleasant and relaxing stay awaits you. The hotel's dining room and bar are decorated in the style of the 1900s and offer a cozy and familiar atmosphere. The Alpine Inn's restaurant will spoil you with a diverse selection of culinary delights. Both breakfast and dinner are absolutely recommendable.
The hotel offers warm hospitality and first-class accommodations throughout the year. The versatile choice of activities, both in winter and summer, makes it a perfect choice for travelers who seek unforgettable experiences and want to experience the beauty of Davos in every season.
Hotel Strela
Hotel Strela offers simple rooms and has a good restaurant with affordable dishes. There is also a small wellness area and a lockable bicycle cellar. The hotel is part of the Davos Klosters Mountains Hotel Group, which means guests can benefit from attractive packages and a wide range of offers. The hotel's location is quiet and just above Davos. The promenade in Davos Platz is only a 5-minute walk away.
It is an excellent choice all year round for several reasons. In winter, it offers an ideal location for winter sports enthusiasts, as it is near the slopes and ski lifts. In summer, the hotel's surroundings transform into an oasis for outdoor activities. The mountains, hiking trails and Lake Davos offer countless opportunities for hiking, mountain biking, sailing and more.
No matter what time of year it is, Hotel Strela in Davos offers guests an ideal combination of comfortable accommodation, proximity to nature and a wide range of activities to make their stay an unforgettable experience.

Hotel Kessler's Kulm
The Hotel Kessler's Kulm combines a long tradition with modern standards. As a family business, the hosts are always at your disposal with advice and tips. The hotel has been renovated and now offers modern comfort. The wellness area has a contemporary design and invites you to relax after a long day. In 2022, a new extension with modern rooms was added to the hotel.
The hotel's cuisine is excellent and offers first-class fish as well as the usual dishes. The hotel's location near Davos Wolfgang requires the use of bus or train to get to Davos Platz or Dorf. There is a bus stop right in front of the hotel and the train station is also nearby.
Experienced skiers have the option of skiing directly down to Davos Wolfgang via one of the two black runs in the Parsenn ski area. These slopes are challenging but offer an unforgettable skiing experience. Overall, Hotel Kulm is an excellent choice for those looking for a combination of long tradition and modern comfort in Davos.
Walserhuus Sertig
The Walserhuus Sertig offers a homey atmosphere in a dreamlike setting in winter or summer. The hotel was completely renovated in 2017 and meets the latest standards. Each room offers a rustic and cozy atmosphere.  The hotel's own restaurant will spoil you with regional delicacies. Should you ever be looking for an excellent alternative, the nearby restaurant Bergführer is recommended.
This hotel is an ideal choice for ski touring, snowshoeing and cross-country skiing enthusiasts, as the surrounding area offers many opportunities for winter activities. For piste skiers, however, the hotel is quite far from the ski resorts in Davos.
In summer, the hotel is the ideal base to explore the possibilities of hiking and mountain bike trails. The picturesque landscape of Sertig offers countless photo motifs. Or take advantage of the idyllic surroundings for a relaxing outdoor picnic. The landscape offers a perfect backdrop to sit back and enjoy nature.
The Walserhuus in Sertig is open 365 days and is the perfect choice for those looking for quiet place and breathtaking surroundings.