Klosters – the best ski resort close to Zurich.
Situated in the canton of Graubünden, Klosters is a charming Swiss village just 1 hour and 40 minutes by train from Zurich or just 1 hour by car. This makes it a perfect choice for those who live in Zurich or are visiting the city and are looking for a day or weekend of skiing.
In addition to the ease of access and the stunning scenery, you will be impressed by the many options the resort offers for skiers and snowboarders of all levels, as well as for other winter sports. The resort has three mountains: Selfranga, Madrisa and Gotschna-Parsenn. The latter connects with Davos, which makes the ski resort even more attractive due to the variety of slopes available for all skill levels.
Beginner Ski Lessons near Zurich:
Madrisa Mountain in Klosters – A Paradise for Beginners
Madrisa provides excellent facilities for beginners who start skiing or snowboarding, as well as for those who want to improve their skills. The mountain is an ideal destination especially for families, as there are options for both children and adults, regardless of their previous knowledge of winter sports.
Accessing Madrisa is convenient, as it's just a 1,5-hour train or 50-minute car journey from Zurich, and a quick 30-minute trip from Davos.
Madrisa-Land, the largest playground in the Swiss mountains. The mountain has three catering facilities and a sports store where you can conveniently rent ski and snowboard equipment and clothing, which will make your ski day even easier. Furthermore, there is a sunny plateau at 1887 meters above sea level, from which you can enjoy a magnificent panoramic view of the Alpine landscape.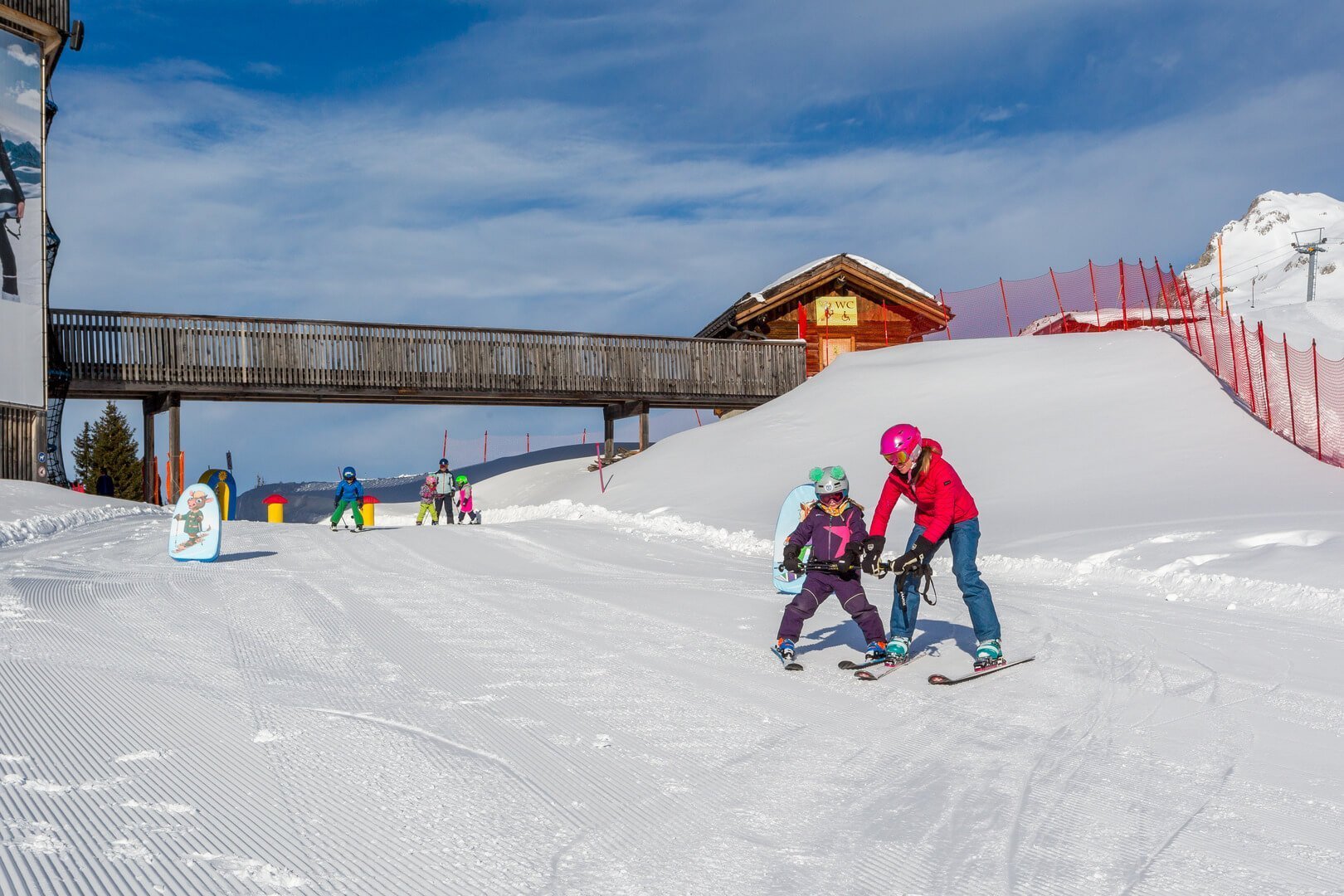 Main reasons for skiing on the Madrisa mountain in Klosters:
1. The beautiful mountain scenery: Madrisa is a stunning mountain that stands tall above the trees. Its not only a safe place for beginners to learn how to ski, but also has a breathtaking view. When you start learning to ski, you will be surrounded by amazing snow-covered peaks that look pretty in the sunlight – like a picture postcard.
2. Easy for beginners: Some people who are new to skiing might feel a little scared of ski lifts. But at Madrisa, they have made sure that beginners feel comfortable. The ski lifts are easy to use, and the slopes are designed to give you plenty of space to learn without feeling too stressed. There are gentle, wide ski slopes (called "blue runs")
that are great for improving your skiing.
3. Getting there from Zurich: If you in Zurich, you are not far from the snowy town of Klosters. It takes less than two hours to get there. You will make a quick stop at Landquart, and then you are at the ski resort. Your final stop is Klosters Dorf, and from there, it is just a short 5-minute walk to the Madrisa ski area.
4. Ski-in and ski-out: There is nothing quite like the convenience of being able to rent your skiing gear and clothing and then walk straight to the slopes, all set to have a great day.

Ride and Smile Ski and Snowboard school:
Your beginner-friendly ski school at the nearest ski resort to Zurich
When it comes to learning or improving at skiing, good instruction is essential. Our ski instructors are experts who know how to teach beginners in a supportive and motivating way. They give personal attention to each student, making sure to acknowledge and celebrate every progress.

Ski instruction with positive feedback: The key to success
On a frosty morning, when the sun's rays illuminate the snow-covered mountains, many people become genuinely enthusiastic about skiing. But some feel anxious, especially those who are new to it or haven't skied for a long time. Whether it's a young child taking its first steps in skiing or an adult returning to the sport after a longer break, the secret to successful learning is having instructors who are optimistic and supportive, providing helpful advice: ski
instruction with positive feedback.
Positive feedback is a potent tool that boosts confidence and helps learners acknowledge and improve their abilities. Rather than dwelling on errors, the focus shifts to highlighting the positives, which accelerates learning and enhances self-assurance.
For children: Children often have a natural curiosity and enthusiasm, which positive feedback can magnify. Instead of pointing out a fall, a ski instructor might say, " That was a fantastic effort! Did you notice how well you maintained your balance before tripping? Let's give it another try!" This approach fosters resilience and demonstrates to the child that making mistakes is okay as long as they learn and persevere.
For adults: Adults tend to be acutely aware of their mistakes. That is why a positive approach is essential for reducing the fear of failure. Instead of telling them, "You're holding your pole incorrectly, a ski instructor should say, you're doing really well. Try holding the pole like this; it might provide even greater stability."
Ride and Smile Ski and Snowboard School: Benefits of learning with positive feedback:
1. Confidence: Positive feedback helps us build belief in ourselves and inspires us to keep going.
2. Quicker progress: Staying focused on the good aspects keeps us motivated and accelerates the learning process.
3. Easing anxiety: A supportive environment reduces the fear of making mistakes. Whether children or adults, everyone should have access to ski instruction that is encouraging and positive, as it boosts confidence and makes learning easier. In the end, skiing is not about the number of mistakes, but about the joy of gliding through the snow and the incomparable feeling of freedom and adventure in the mountains.
When you or your child takes a skiing lesson next time, consider seeking instructors or schools that understand the importance of positive feedback and incorporate this approach. The experience will be truly rewarding!
Book your now your ski or snowboard teacher in Davos Klosters!
Do you need more information? Click on the links below and find the best tips for your trip to Davos Klosters:
Where to stay in Klosters?
Where to stay in Davos?
Where to go to eat in Davos?
Where to go to eat in Klosters?
What to do in winter in Davos?
What to do in winter in Klosters?