Always thinking about what's best for you, Ride and Smile has picked out the best restaurants in Davos for you to visit, enjoy and spend quality time with friends and family.
List of the Best Restaurants in Davos
Padrino
It is a little piece of Italy in Davos. It's a great place to eat pizza and Italian food in a lively atmosphere. However, you got to get there early to take a sit. The host family is very receptive, and the owners will always be there to receive you. They have great pizza, and you can try homemade lasagna.
Schneider's Davos: Café-Restaurant
If you're looking for a quick coffee, for a visit in the patisserie or a full swiss meal in a cosy atmosphere, Schneider's can serve you. The varied menu, with pizzas and regional dishes, offers good choices: Specialities like homemade capuns, Davos Krautpizzokel, Grisons Cordon Bleu, or grains of sham Monstein delicatessen. At night you can try their raclette or cheese fondue.

Grischa Hotel Davos 
Do you love a great variety of dishes? The different restaurant of the Grischa Hotel, one of the best 4-star hotels in Davos, offer a plenty of options to enjoy with all of your senses. Check it out!
1. Golden Dragon China Restaurant  *Bib Gourmand Michelin
The Golden Dragon celebrates the authentic Chinese cuisine. Their chefs, Seng Chon and Jeff Chon, both from Macau, prepare all dishes freshly and only use premium quality ingredients.
2. Leonto Sushi
Japanese cuisine freshly prepared. Here, the sushi specialities are the stars of the show. A veritable explosion of colours, shapes and tastes. And the takeaway is no exception.
3. Pulsa Fonduestube
The Fonduestube is a dream for cheese lovers both in summer and in winter. And if cheese isn't your favorite thing, the Fondue Chinoise is the ideal alternative and comes highly recommended.

La Muña at the Alpengold Hotel 
Located in the iconic AlpenGold hotel, overlooking the lake of Davos, the La Muña's cuisine is inspired by food from Peru and Asia. It is known as probably the highest situated and most spectacular restaurant in the Alps. Please note the restaurant is only open during the winter season.
Stall Vällar Bar and Restaurant
That is an old stable converted into a restaurant situated near the Jakobshorn station, with a bar and modern cuisine based on preparing interpretation of regional dishes.
Make a reservation and enjoy this new and modern concept. The atmosphere is excellent, as are its meals.

Piz

Piz

Davos
Cozy and comfortable. With a wool blanket in the rustic parlor, plenty of British Racing Green, and a wild winter garden overlooking the peaks of Jakobshorn. At PIZ PIZ Davos, sophisticated appetizers, fantastic fondue variations of cheese or hand cut meats as Fondue Chinoise and clever desserts are served in a modern atmosphere. Tasty, local and handpicked wines are served by the staff, alongside other international wines. And later, you can just dive into the nightlife of Davos just next door.
Email: hello@pizpiz.ch.
Website: https://www.pizpiz.ch/

Bräma 
The terrace of the restaurant Bräma is an excellent place to relax and have a delicious meal. They serve pizzas, pasta, vegetarian options, and traditional dishes. Besides, the crew is always looking after the details to serve the guests in the best way.
Phone: +41 81 416 20 20
Website: https://www.bräma.ch
Jody's
Phone: +41 81 416 20 20
Website: https://jodys.ch/en/home-english/
Jody's also belongs to the Grischa family. They offer a varied lunch menu every day, and from 2 pm onwards you can enjoy the best apéro in town with fine Mediterranean tapas. Modern and very pleasant atmosphere, worth a visit!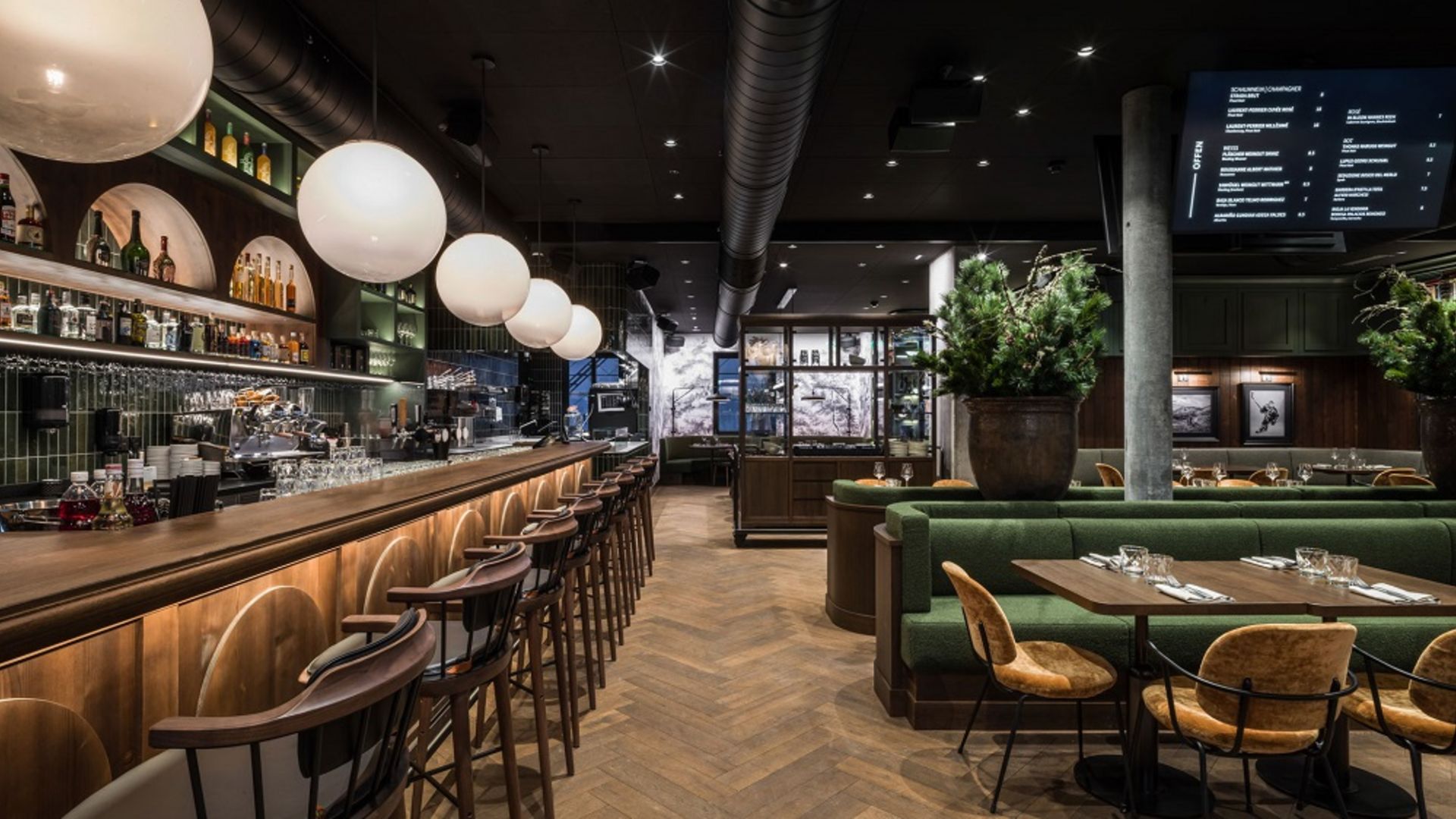 Restaurant Pot- au- feu 
Best barbecue specialties! The meat is grilled over an open fire and you can watch it being prepared.A right choice for those in winter looking for an option specialized in barbecue and fondue, with a good location.
During the winter, its rustic interior invites for a comfortable meeting with friends, family, or even for business proposals. Please note the restaurant is only open during the winter season.
Alpenhof
Alpenhof has an excellent Mediterranean cuisine and exquisite Swiss specialties, carefully prepared and perfectly presented by the host Roberto. You can try a meal and good wine in a very family-friendly atmosphere.
 
Chalet Belo 
The beautiful wooden chalet at the foot of the Jakobshorn now serves simple Italian specialties, Filetto di Manzo on the secondo Piano, alpine aperitifs, and invites you to dance after hitting the slopes. Whether you're coming directly from the slopes or after a peaceful day on the promenade, CHALET BELLO welcomes you until 11 PM and will soon offer evenings you won't forget."
Sõko Ramen & Bar 
The focus lies on homemade ramen and great wine specialties. Here you can enjoy the day outside on one of the terraces together with freshly mixed cocktails, with a wine from the extensive menu or a beer from the region.
​
Behind the "Sõko"concept are the two restaurateurs Alexander Jakob and MaximilianBaumann. Alexander Jakob has cooked – with a master's certificate – at the best addresses in Germany.
Pöstli Grill – At the Morosani Post Hotel 
Open from November to April, it is located at the Morosani Posthotel and is the place for the ones who love meat: it is famous for keeping meat dishes on the focus, such as the Irish Prime Beef Rib Eye. They also offer organic, vegetarian-friendly, or gluten-free options. Its colorful walls and comfortable sofas will make you feel at home since the living room atmosphere prevails.
Phone: +41 81 415 45 00
Website: https://www.morosani.ch/en/restaurants/poestli-grill/
Kaffee Klatsch
If you're in Davos, you have to stop at one of the Kaffee Klatsch coffeehouses. Here you can have a coffee, late breakfast, stay for a meal or even read a book or shop for items in the small boutique. They serve a lot of different homemade kinds of cakes, pies, and other sweets to try.
Damiano's Gemsli 
After 10 years at the helm of the renowned Tschuggen restaurant, Damiano Bettini embarked on a new challenge. The new restaurant bearing his name, opened in late July, in Davos Dorf. Without a doubt, this is the place for those who want to savor the best of Swiss cuisine in Davos Klosters.
Atrium
The original panelled ceiling dating back to 1911 and the closed semi-circular arch that once adorned the open sun terrace make time stand still for a moment. Enjoy a varied, light and fresh natural and aromatic cuisine in our restaurant Atrium. 3-course Culinarium.Our fine, daily fresh menu made from regional and seasonal ingredients with numerous choices will also delight you.
Do not forget to visit the Visio roof terrace on the 5th floor of the Waldhotel, you are guaranteed to have the best view of the whole of Davos!
Phone: +41 81 415 15 15
Website: https://www.waldhotel-davos.ch/en/food-and-drink/atrium/
Chesa Restaurant 
Very well located within one of the excellent 4-star hotels in Davos, it combines products considered classics with regional, surprising ingredients, molding a rich and tasty mix. The place counts on a terrace, where you can enjoy sunny afternoons while having your meal.
Phone: +41 81 417 94 44
Website: https://www.precisehotels.com/davos/gastronomie/restaurant-chesa-davos
La Carreta 
A typical Italian restaurant in the middle of Davos – and that includes pictures of the owners with famous people and celebrities hanging on the walls. The plates of pasta are delicious, and one of our favorites is lasagna. Excellent cost-benefit!

Bistro Voilá at the Steigenberger Icon Belvédère Hotel 
This restaurant is located at the Hotel Steigenberger Belvédère at Davos Platz and strongly known for its regional and international cuisine. The à-la-carte service is offered daily from 11 am to 11 pm: You can find a quick snack or a complete dinner. Its terrace offers an amazing view of the mountains and is a lovely place to have a cold drink during the summer or a hot coffee on colder days.
Montana Stube 
Their specialty is Mistkratzerli, but you can also try Bündnerfleisch, Salsiz, and Alpkäse from the menu. With 100 years of history, you have to enjoy a beautiful night there.
Clubhouse
It is located at the Golf Club of Davos. In summer, there is nothing like enjoying moments on the terrace and one of the most beautiful views in Davos. For golfers, après golf is highly recommended.
In winter, it is possible to organize fondue and raclette exclusively for friends and family.
Restaurants out of town
Sertig Valley is one of the must-see places in Davos: With 450 years of history, Bergführer Sertig will enchant you. You can choose a dining room or spend time on their terrace. Their team loves what they do, can serve you a great meal, and advise you about a right wine choice from their special menu.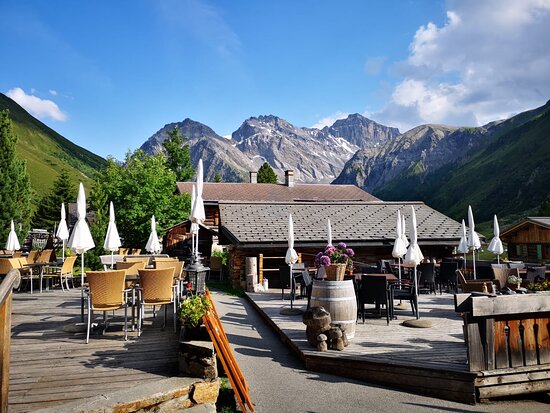 Walserhuus Sertig
Within the hotel, the restaurant has a unique atmosphere. Everything is so Swiss that the experience is unforgettable. The windows give us a fantastic mountain view, and you can also enjoy their terrace.
In the winter, you can schedule a snowshoes walking tour with Ride and Smile in the beautiful valley of Sertig Tal. Along with it, enjoy a wine tasting and a delicious fondue chinoises to finish the day in high style.
If it is summer, you can try their barbecue with a salad buffet on selected Sundays. Check on the website!

Here you can enjoy excellent and varied seasonal cuisine. Whether with a glass of Herrschäftler wine or a Monsteiner Huusbier beer in this cosy "Stüblis" it is just good to stay for a while.
Seasonal dishes and fish specialities enrich the culinary range. The terrace attracts guests not only in the summer months, but also on sunny days during the winter with its magnificent views.
Lengmatta
The restaurant is newly renovated and expanded, and you also have a wonderful outdoor terrace. Try a meal along with wine with family or friends. They also offer a children's menu. After eating, you can enjoy a walk to Frauenkirch.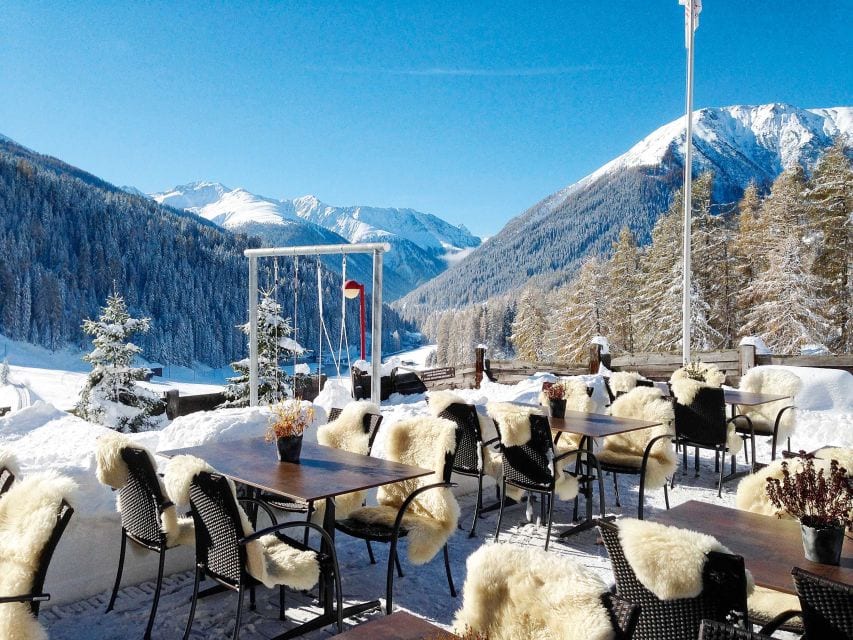 Veltlinerstübli Monstein
Visiting Monstein is part of the trip schedule. Their traditional blueberry pie is a huge success, and you can try it during the sunset on the terrace. The place has existed since the 18th century and it is located at 1,620 meters altitude in the picturesque village of Monstein. Try a fondue chinoise, different sausages, and other Monstein's specialties.