Davos Klosters is an absolutely El Dorado for the mountain bike (MTB) enduro sport. Besides its impressive numbers of single trails, what makes it so great and unique for the activity is the well planned and complete connection with the cable car and public transport. Links with trains, buses and the cable car make the hobby possible and smooth, something you won't find anywhere else.
In the 1980s, residents started riding on the hiking trails. With the passage of time and the increased interest in the sport, the 'Share the Trails' code was created – which grants bikers equal rights with hikers in the 700 km of hiking trails. In this way, all lifts became open to mountain bikes and – the most significant gain! – every hiking trail also allows MTB.
That doesn't come to a region. It doesn't matter which mountain you choose to ride – Gotschna, Parsenn, Jakobshorn, Madrisa, Rinerhorn or Schatzalp: Also in the summer, cable cars are open and will take your bike up to the mountains, with you.
The single trails bike maps in Davos and Klosters
Need a map? No problem! Single track bike maps are available in print, pdf format or interactive version – there is even a 3D map app (for Android and Apple systems) with GPS tracking tool. They show an embracing group of paths for bikers, considering three difficulty ratings. So, beginners and experienced riders can benefit from them.
Another facility for tourists is the Guest Card, which guarantees your bike ticket and some services for free or discounts. You enjoy discounts up to 50% in several attractions, and the card is also available digitally for the smartphone.

Natural, long, enchanting trails in Davos 
If natural trails are your choice, Davos Klosters is a gift: Its local trails are mostly real single ones, what asks for good bike skill. Paths are really long, what allows you to travel from one valley to another, by using the cable cars in between.
Epic Trail is the longest one in Switzerland: Its 45 km links Jakobshorn, via Sertig Dörfli, to Davos Monstein, right up to Filisur. It has been nominated one of the world's best mountain bike tracks. It is the only trail in Switzerland crowned 'IMBA Epic Trail'.
Need more adrenaline? Try the Gotschna freeride track! It is a real roller-coaster for mountain bikers, 6 km long, linking  Gotschnaboden to  Klosters. It is known as the "A-Line's little brother", since it was modelled based on the "A-Line" in Whistler, Canada.
Gotschna freerides track, above the village of Klosters, counts on 590 vertical meters downhill, 50 steep wall curves and 30 tables.

Single trails highlights in Klosters

Secret trails in Madrisa
Madrisa has also got some substantial secret trails, and not all of them can be found on a bike map. There are many shortcuts, what makes trips very exciting: the constantly changing sceneries never let you bored, and some points ask for more developed technical skills. Meet some of them:
Our favourite spots in Davos
If you are a beginner, there is a trail on Jackobshorn for you – it goes from Ischalp to Bolgen (Davos Platz). It has no rocks and big roots, so you can enjoy the trail with no worries – and even risk some little jumps. Yes, jumps are part of the fun: This place is perfect for you to start trying, and nothing will happen if you don't dare to jump off!
A minimum instruction is offered along the way; you will learn which technique you should ride and what you should expect on the way ahead. That means enjoyable moments for the beginners and the experienced ones!
Everyone can have a good and quality MTB time in Davos. Those who want to further on the practising can head to the Bike Park Davos Färich: It on the entrance to the Flüela Valley and a freeride bike park suitable for all riders, it doesn't matter how skilled you are.
One of my favourite trails is Pischa's, all the way down to Klosters. It is much more interesting than going via the regular way down to Davos.
       Check also:

Why going with a bike guide in Davos Klosters?
Exploring new places and landscapes by yourself is a genuinely lovely experience. However, when you are visiting a site that needs to be checked up on a map frequently so that you won't miss a trail, that can become an annoying situation.
The area for MTB in Davos Klosters is vast; it is worthy to invest in a guided trip, so you will able to enjoy the flow and avoid looking for places, trails and signs. Without a guide, there are shortcuts and other trail options you will not be able to find.
Having someone with you who knows the place deeply will allow you to be at the right place, at the right time. Also, you will have time to visit beautiful sites for a drink or to eat something.
Safety is another critical issue; when riding through mountains, some unforeseen events may occur. If you or your bike has any problem, we will be there to assist you straight away.
A bike guide will steer you through incredible ways and for how long you wish; you avoid bad surprises, don't get lost and never miss good views and events, because there is no wrong time at the wrong place.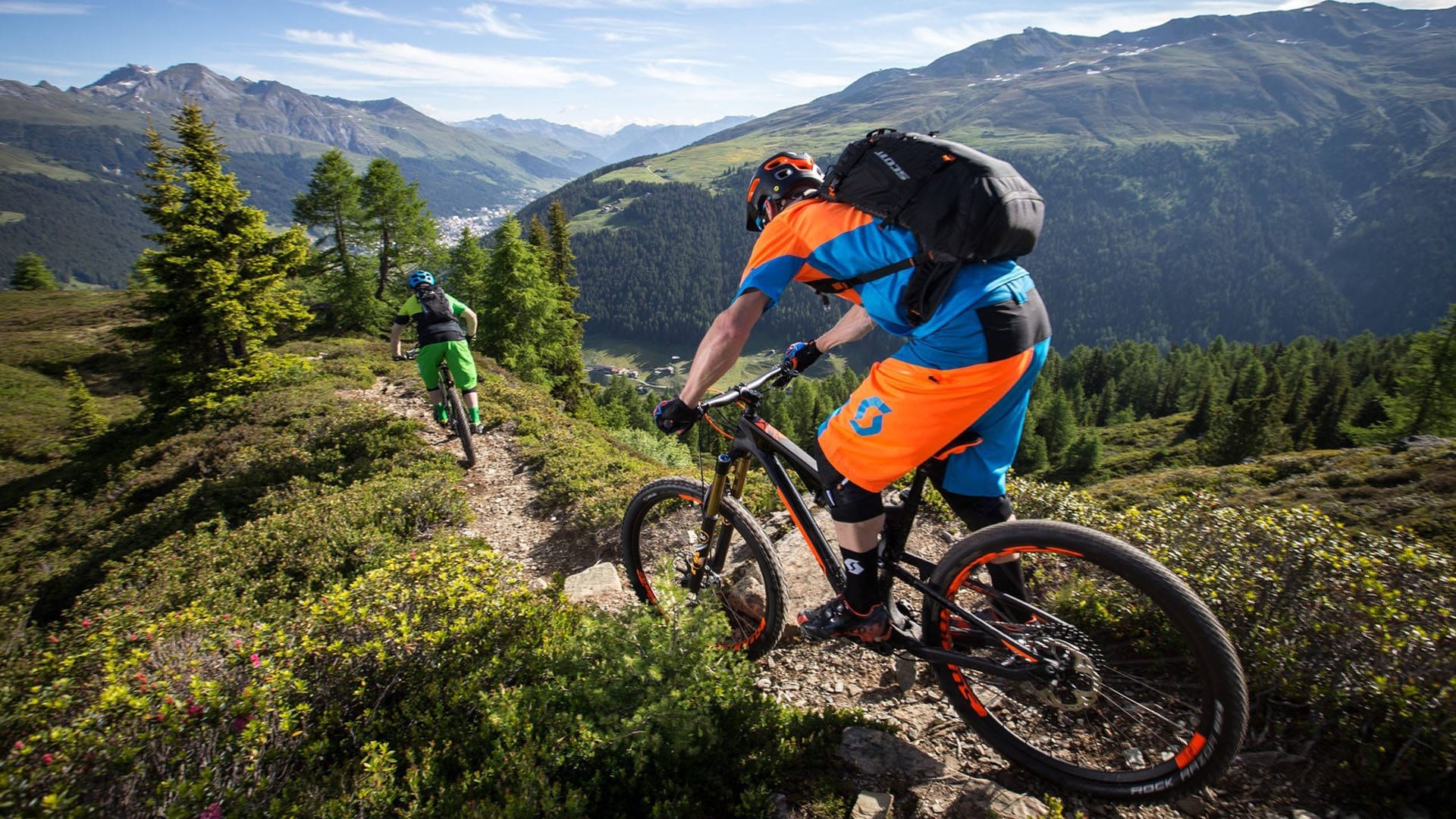 The whole place is thought and planned to well receive in full the tourist who opts for MTB. In this way, bike hotels are an excellent choice, since they have differentiated service for bike lovers!
Besides offering the usual hotel services, the bike hotels give discounted lift passes, secure bike storage and maintenance, cleaning areas, and a laundry service for the post-riding muddy clothes! A complete and beneficial experience! Research some options and find the one that best fits you!