In Klosters there are various possibilities to rent the right equipment and suitable clothing. Find a list of the rental shops that we regularly recommend to our customers,thanks to their excellent service and a wide range of winter sports items. Depending on where you are staying in Klosters, it is advisable to choose the closest equipment rental.
The family business in Klosters, just a 5-minute walk from the Gotschna valley station, offers winter sports enthusiasts excellent service and top-quality equipment and clothing.
If you are more sports-oriented, you are guaranteed to find everything you need on the slopes here – whether for alpine skiing, cross-country skiing, telemark, ski touring or snowboarding. The shop is number 1 in the region, especially in the freeride and ski touring sector. There is also an extensive variety of winter clothes and products for children.
The equipment, including brands such as Dynafit, Lowa or Dolomite, can be rented or purchased. The team always offers detailed advice and helps with the choice of the right equipment. It is not for nothing that the King of England has been getting his ski equipment from there for many years.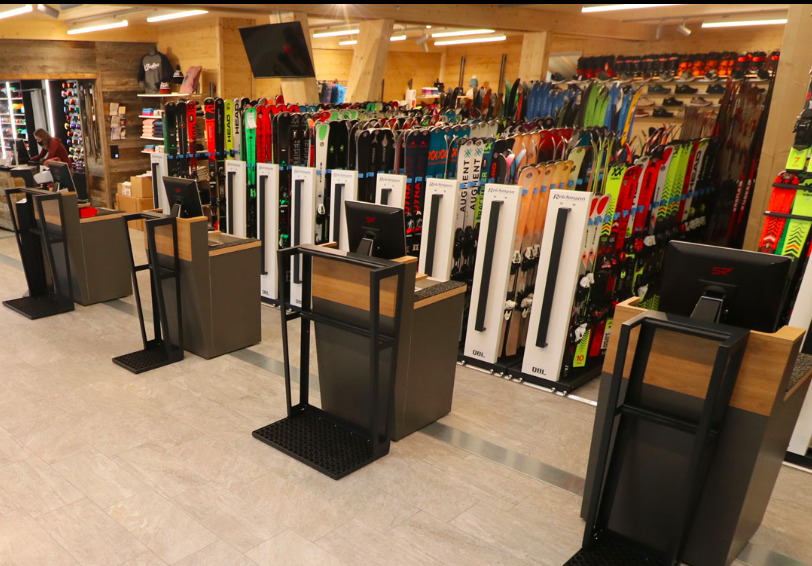 Bardill Sport offers ski equipment and clothing, especially for fashion-conscious customers, from top brands such as Frauenschuh, Toni Seiler and Bogner. In addition to the usual brands, the ski segment also includes the Zai brand, which belongs to the luxury segment.
The ski rental is right next to the Gotschna valley station and as well as at the Madrisa mountain station. Customers will find another branch at the Jakobshorn valley station.
The store at the Gotschna valley station also offers rental customers the option of renting a ski locker in the basement of the valley station to store shoes and skis. In addition, the ski lockers have a boot drying function – so customers always have dry and warm feet.
Another rental shop is located at Madrisa, what is super practical for those who would like to ski on this mountain. It is possible to rent skis at the top and go skiing directly.
Andrist Sport has several branches in Klosters and Davos. The main shop is a 5- minute walk from the Gotschna valley station in Klosters.Thanks to the network of stores in different locations, customers can return the rented equipment to one of the other shops.
There is also a rental station at the Weissfluhjoch and at the Parsennbahn valley station in Davos. In the event of problems on the mountain, customers can drop by one of the stations directly, where they will get assistance immediately.The shop also offers plus-size winter clothing.
Of course, you will also find absolute top brands at Andrist Sport when it comes to equipment for skiing and snowboarding.
We at Ride and Smile look forward to supporting you on your skiing holiday in Klosters. In addition to ski lessons, we are also happy to organize the right ski equipment for you.