If you are a powder snow lover, Davos Klosters is the right place to be. The possibilities are endless, and it is not a destination full of people, so you do not need to fight for the first line. There are so many options that even Davos Klosters residents cannot ski in all of the off-piste routes during a single winter.
Going up on the mountains is not a challenge, even if you are not a very fit and skilful person; it is possible to access some remarkable off-piste by lift – most of the ski tours are connected with lift transport, or you can find other options. It helps to make Davos Klosters the mecca for freeride skiing. Also, some of the off-piste descents are open fields cultivated by farmers; they are free of rocks, and it is not necessary to have much snow for freeriding and ski touring.
What you need to know for first time ski touring?
Ski touring

and Freeride in

Davos and Klosters
The off-piste season does not finish early: It is possible to do a great ski touring day until the end of April. Furthermore, the region offers the possibility of making a fantastic ski touring safari. The alternatives to enjoying snow sports are many: Pack up and prepare for the excitement and fun!
Ride and Smile has listed some special off piste skiing in Davos and Klosters:
Off Piste Guide Davos
In Davos, PISCHA is a fantastic mountain for the sport, which we highly recommend. The focus there are specifically ski touring, freeride and other fun sports that don't need prepared slopes – that is what makes this mountain so unique.
One of our favourite smooth ski tours is the one in PISCHAHORN – 2,912m.When the weather and the snow conditions are good, it is a worth mountain! The walk up there is not long, and the run down to TSCHUGGEN is also a cool option for skiing.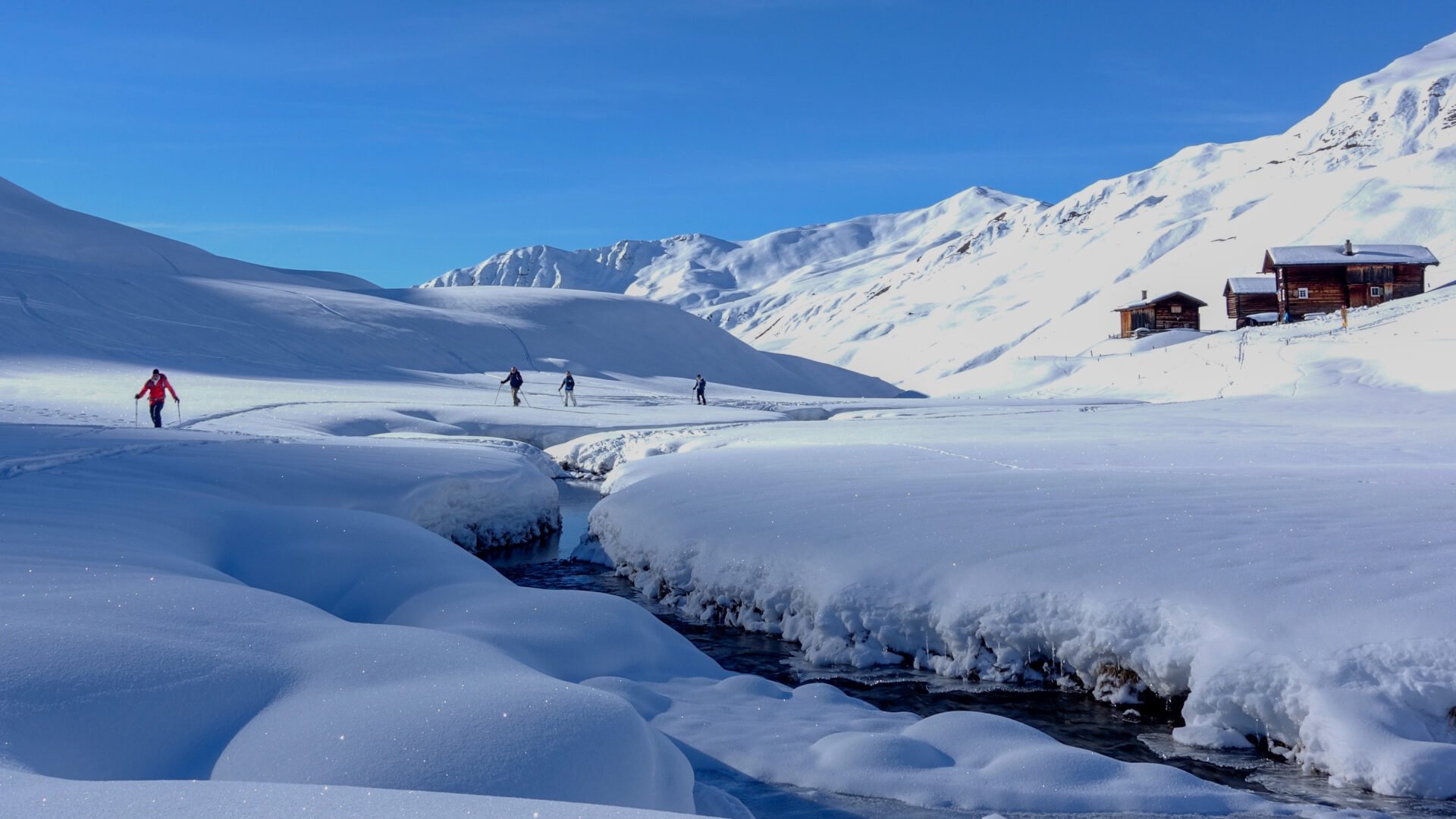 If the RINERHORN mountain is the choice, a recommended off-piste option is to ski down in SERTIGTAL. The influence of the weather from the south is prevailing; so, if the forecast says there will be a sunny day in Engandin, you will probably have good weather there, too.
Feel like being on the top of the world?
You should go to JAKOBSHORN. You start skiing on the impressive altitude of almost of 3,000 m – that is a view! It offers various options for a relaxed ski touring as well as a more complex one, as in ROSSBODEN – 2,613 m. To facilitate it, there are many open runs very close to the chairlift. What else would you wish?
In Davos, Parsenn is the most prominent area for ski touring and freeride. If off-piste skiing is something new for you, try DRIMARCHENSPITZ – 2,346 m. For experts, we advise DIRETTISSIMA -2,600 m. SCHATZALP is an excellent mountain for a ski tour during the spring, and most of the run down is east-facing.We recommend CHÖRPSCH HORN-2,650 m.

Off-Piste Guide Klosters
On the Klosters side, the mountain is called GOTSCHNA, where there are also many freeride options: DROSTOBEL – 2,250 m, a beautiful and north-facing run, or OBER LARET, a broad way between the trees.
On Madrisa mountain you can find some fantastic ski touring options, like skiing across Austria's border to Gargellen, completing the famous MADRISA RUNDTOUR.
If searching for comfortable and safe freeride skiing, choose CHÜECALANDA – 2,601m – there are two marked out tracks, from the top of Madrisa down to the chairlift.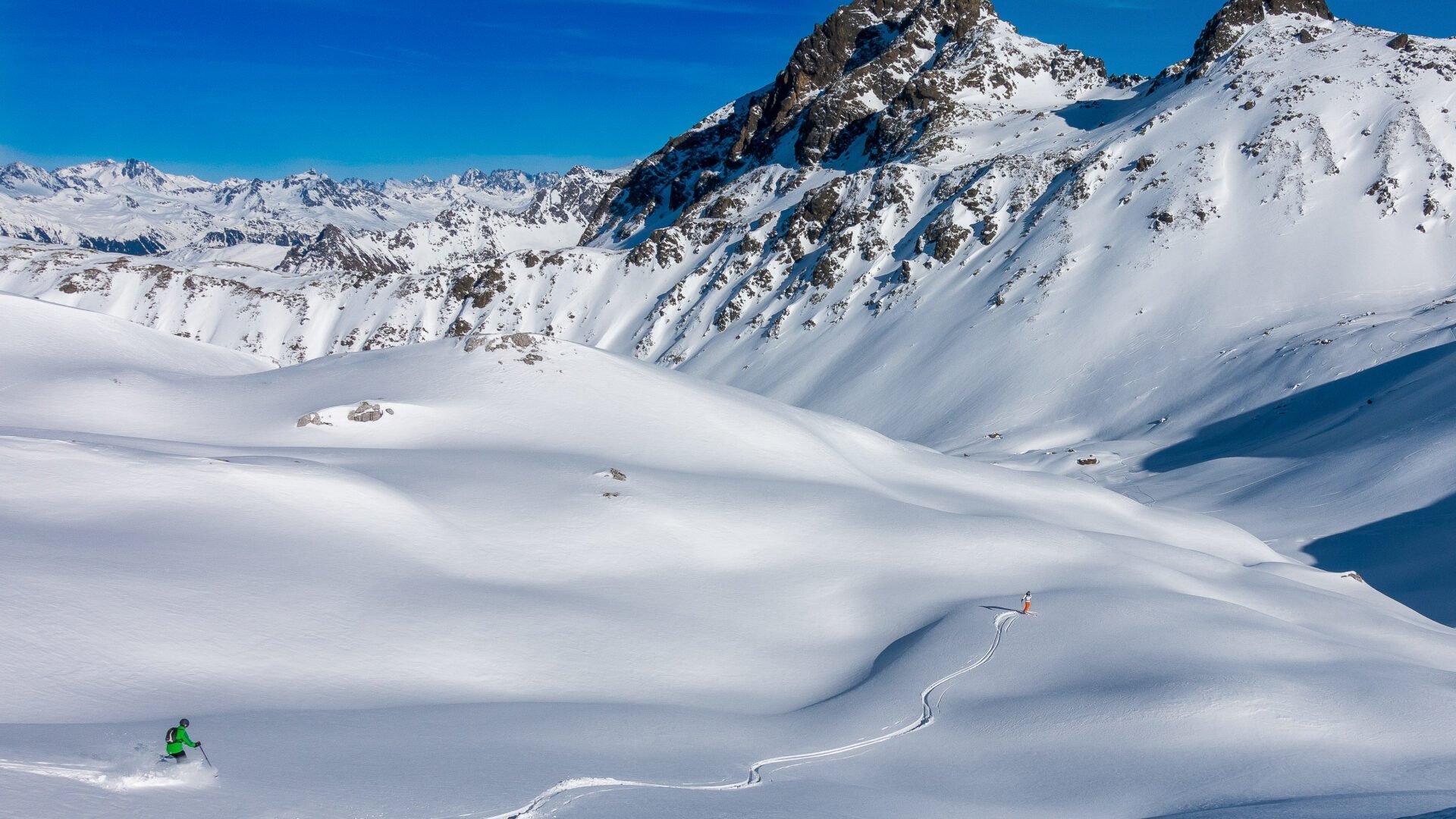 Fun and safety side by side
Equipment is an essential matter when we talk about ski tour and freeride.
Gotschnasport, in Klosters, offers all kind of equipment and varied types of off-piste skis, like skis for kids to go off-piste and ski touring. Safety equipment there is on the newest standard, and you can find different styles of ABS backpacks, deeper, avalanche beacon,shoveland avalanche probe.
If you are a snowboarder, you can rent a split board. Maybe the idea is to try telemark skiing, the technique that combines elements of Alpine and Nordic skiing: You will find everything you need there.
In Davos, the best shop specialised in mountain sports is Fullmoons.
If you like mountaineering ice climbing, ski touring freeride and climbing, that is the place to go in Davos. Walter, the shop's owner, is a mountain guide and he really knows what is recommended and what is not that good.
A local guide reshapes your trip in Davos and Klosters
Naturally, ski touring with friends is one of the first alternatives everyone considers, but if you do not want to miss the good snow and wishes to be at the right time at the right place, do consider booking an off-piste guide.
Everybody can find routes in printed guides and online maps: Yes, routes are there. However, relying on the assistance, knowledge and experience of a local guide, who is on those mountains every winter day, will change the quality of your experience.
He has information that you will not find anywhere else – e.g., weather conditions can easily interfere with snow, like wind, sun, and temperature. He is the person who can assess the snow situation for that moment and indicate the best options.
Also, to do some extreme touring, around 40% steep, you will need a mountain guide. To do some leisurely touring, up to 35% steepness, get to book an off-piste guide, and you will have a fantastic day in Davos Klosters.
So, even if you know where the route is, consider trusting in a local guide: He can turn your ski day from pleasant to unforgettable!