Enjoy nature and the landscape intensively and be as flexible as possible: excursions on a mountain bike offer the ideal conditions for unique experiences and pure adventure.Larger climbs and tours over several days are easy to master, especially with an e-bike. Here are some tips on how to plan a varied hut tour in the Swiss mountains with an e-bike.

1. App "Schweiz Mobil" is recommended
For tour planning, we recommend the app Schweiz Mobil. Already for an annual price of 30 CHF you have the possibility to plan and download your tours yourself – the latter is important so that you have access to the map information even without an internet connection. The map material of the app is very detailed, and all routes are marked.
Even if the tour was planned by someone else, you should always check the route again before setting off. To do this, use the numerous forums and apps about different trails, and also search on social media, for example on YouTube or Instagram, if you can find information about the tour.
2. Plan B for bad weather
Always also contact the huts again on the day of the trip to make sure that the road is free. It may be, for example, that the route is blocked due to a storm. For such cases and bad weather in general, it is advisable to have a plan B in your pocket.
Also note that the selected tour does not include carrying passages and corresponds to your ability. Mountain biking in the mountains in Switzerland is usually very demanding. Carrying passages can be very strenuous especially with an e-bike. Be aware that you are in the mountains at an altitude between 2000 m and 3000 m.

By the way: In Graubünden you are allowed to ride your bike on all hiking trails unless a general restriction has been installed. Some trails are closed to bikers at certain times, usually between 9:30 and 15:30, and are only open to hikers.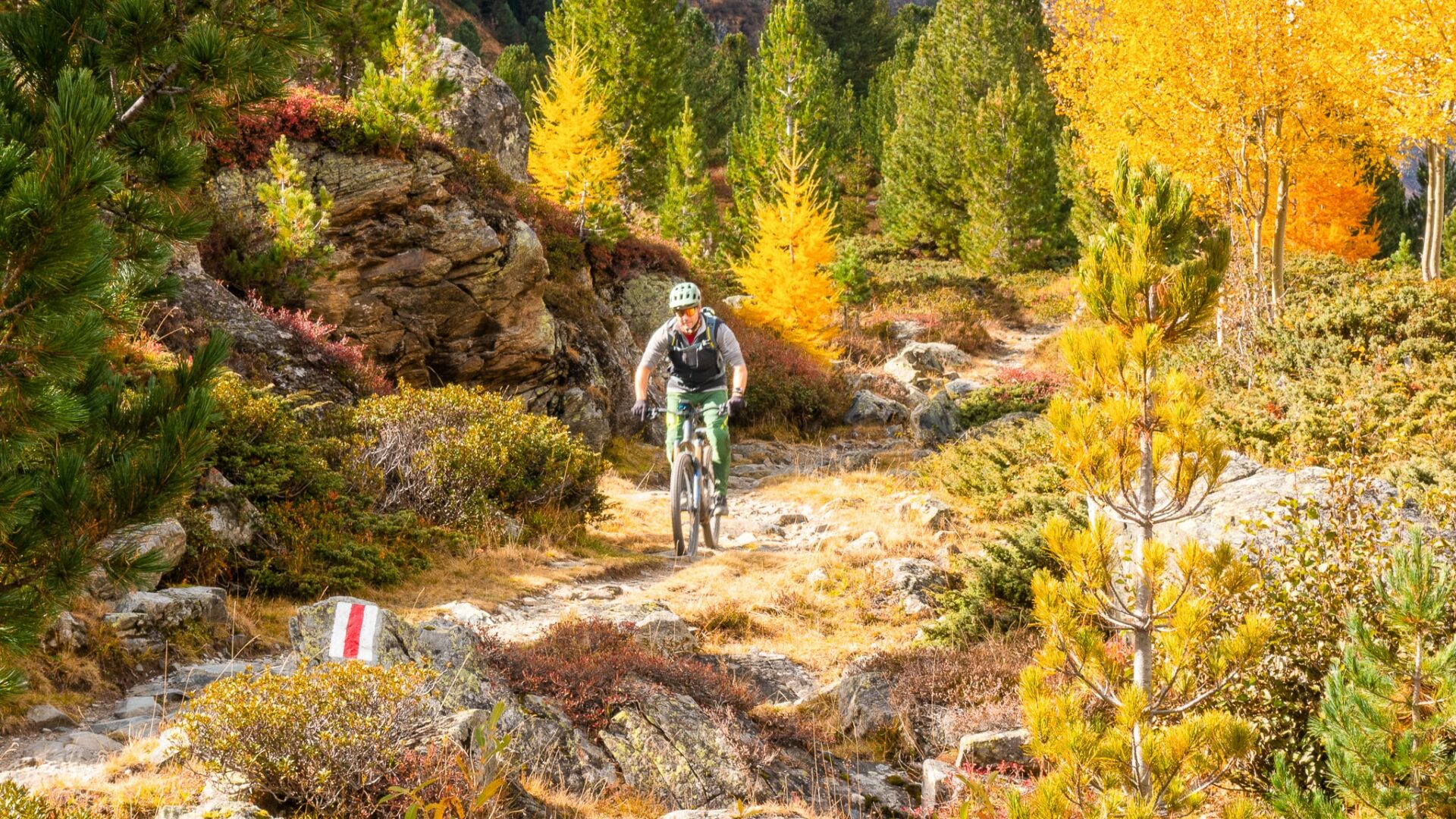 3. Tips and tricks for a relaxed tour
Anyone who has ever taken a longer tour on an e-bike certainly knows the score: The crux of an e-bike is that you are always dependent on a suitable power source. Therefore, you should find out right at the beginning whether the mountain huts offer a power connection to the public grid, or whether the electricity must be produced yourself. In general, it should be possible to easily remove and reinstall the battery from your e-bike.
The battery performance is also related to the altitude meters to be mastered. Therefore, plan exactly what kind of paths or trails you want to use on the tour to get an estimate of the battery runtime. An asphalt road naturally requires much less battery than a single trail leading up the mountain.Here are a few tips to increase the power life of your battery:
What you should consider to increase the power of the battery of your e-bike:
Select the correct cadence
 Adjust assist levels
 Avoid stop-and-go
 Pay attention to the correct tire pressure and tire quality
Maintain the e-bike regularly
The Right Cadence
Depending on the gear you are using, an e-bike consumes more or less battery. For example, if you ride in the highest or heaviest gear, it is very likely that you will ride faster and thus use more battery. A cadence of approx. 70-75 revolutions per minute is a guide for using the e-motor efficiently.
Customize Assist Levels
It is advisable to ride at a low assistance level at the beginning of the tour. Even if there is the temptation to ride at a high assistance level, you must always be aware of the distance that still lies ahead of you.
Avoid Stop-and-Go 
The more often you stop and restart, the more battery you consume. This is because the motor switches on again every time you start it and thus consumes more power.
Pay Attention to the Correct Tire Pressure and Tire Quality
We recommend for the tire pressure 1.5-2.5 bar. Regarding the type of tire, it is probably advisable to have a stable tire and accept a little more weight for it. Puncture protection and grip is in our opinion more important than reducing weight.
Maintain the E-Bike 
A well-maintained e-bike is an efficient e-bike. Therefore, make sure to maintain the bike regularly and bring it to the workshop when necessary. Because a non-oiled chain or grinding brake pads can not only affect safety, but also the battery performance.

4. Packing list with the right equipment
Below you will find our recommendation on what things to pack for a hut tour in the Swiss mountains.
Equipment: 
E-mountain bike in perfect condition
Helmet and gloves (we also recommend knee pads)
Clothing suitable for the weather and spare clothes
Drinking bottle(s), snacks for in between
Charger and key for the e-bike
First aid kit
Good to have 
Short rain pants
Power bank for the battery of the cell phone or GPS
Cash (it is not possible to pay by card at every hut)

5. Our tips for tools and repairs
We advise to have the following utensils in your luggage, should a repair be necessary on the road.
List of Tools and Spare Parts
 Minitool
Small combination pliers
 Mini pump
Damper pump
Chain links, Sram chain lock
Nipple tensioner
Shift cable
Spare brake pad
First aid spoke
Cable ties & packing straps (emergency puncture kit)
Repair Kit for Tires
 Sclaverand valve insert
 2 tire levers
 Tubeless repair kit
2 spare tubes
Tube patches (keyword: TipTop)
Sclaverand valve adapter -> car valve
We at Ride and Smile wish you a lot of fun on your e-bike tour and would be, of course, happy to accompany you as your guide.